Coyoacán (means place of coyotes in Nahuatl) is a magical space, filled with history, legends and culture. Located in the south of Mexico City provides an enormous wealth to its visitors. It is one of the areas of the city where people can appreciate more the colonial legacy in the city, a few decades ago it was a town located outside the city and now is entirely within the same, but still retains its traditional Mexican character, which together with its beautiful squares, streets, mansions, gardens, churches, restaurants and museums, has attracted a large number of artists, which gave this area a pleasant intellectual atmosphere.
Coyoacán has its origins in pre-Hispanic times in which a population was located in the south on one of the lakes at that time covered most of the Valley of Mexico, but became more important after the fall of Tenochtitlan, and while this was rebuilt to form what is now the Historical Center, was established in Coyoacán the capital of New Spain.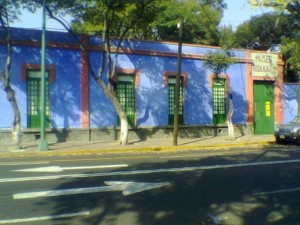 Over the years, Coyoacán became a place where wealthiest families of the time went on the weekends to relax and it was not until the twentieth century, Coyoacán left his old vocation of agriculture, being totally immersed in Mexico City to become one of the most typical neighborhoods of the metropolis.
On a stroll through its streets people can feel the tranquility that still preserves the area with its houses painted in bright colors, its cafes in which discussions about literature or art are taken, its many cultural centers, large and beautiful forests, where families can find a resting place in direct contact with nature, as are the Viveros of Coyoacan.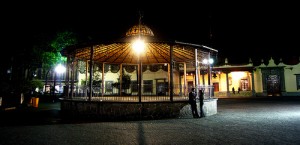 Coyoacán also offers many museums to meet an important part of Mexican history, among them, are the Diego Rivera Museum, the Museum of Interventions and the National Museum of Popular Cultures. As well as the National Arts Center, that offers theater, music and dance, both national and international.
Tourists can also enjoy its colonial buildings, like the Old Town Hall and the Cathedral, which its interior show the baroque splendor of Mexico, as many of the architectural works of the colonial era, were inhabited by the Franciscan Order in the sixteenth century.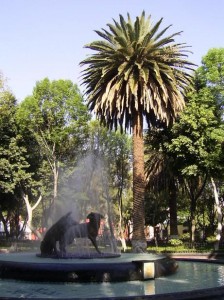 Throughout its history, Coyoacán has witnessed the passage of important painters, writers, visual artists and sculptors with their contributions have enriched the cultural heritage of our country. Diego Rivera, Frida Kahlo, Salvador Novo, Octavio Paz, Emilio El Indio Fernandez are among its illustrious inhabitants.