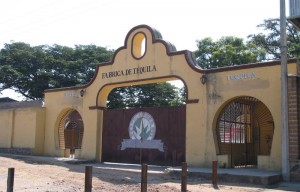 Tequila is a municipality and a town in the state of Jalisco. The name Tequila comes from the Nahuatl word Tecuilan or tequillan, which means "Place of taxes". Since 2003 it's is a "Pueblo Mágico" and is famous worldwide for giving its name to Tequila, being the place where it is produced.
The town of Santiago de Tequila was founded in 1530 by Franciscan monks on the orders of Fray Juan Calera. In 1600 was established the first distillery of agave, which was previously consumed but not distilled, creating like this the first tequila factory itself. After independence, in 1824 Tequila was named one of the 26 departments that originally divided the state of Jalisco, also giving it the title of town.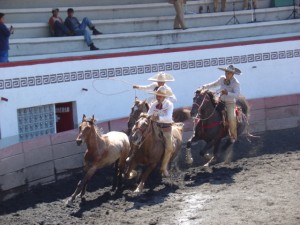 The volcano of Tequila is a dormant volcano about 3 thousand meters above sea level close to Tequila, Jalisco, which is believed to the last eruption was 22,000 years ago.
Each year between November and December it is celebrated the National Fair of Tequila, where you people meet the main producers of tequila, as well as enjoy the charreada (which is a type of rodeo), the mariachis, rooster fights, fireworks and the parade with allegoric cars.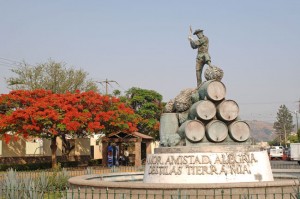 In this village there are a variety of crafts, such as "barrilitos" (little barrels) made of oak, decorated with figures referring to the agave, also the production of amphora covered with leather, with inscriptions of typical phrases, both products are filled with the traditional drink of tequila. There are also items of clay, and there are some workshops where they are produced huaraches (a kind of sandals). There are as well workshops for carving obsidian, where are produced decorative figures, this rock is extracted from the slopes of Cerro de Tequila.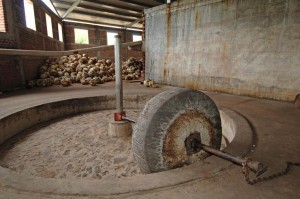 The National Museum of Tequila has permanent and temporary exhibitions for national and foreign tourists who want to know more about the origin, process, and the tequila industry, also has a collection of boxes and bottles of tequila and the World's largest bottle of tequila (listed in Guinness Book of World Records). In the center of its courtyard surrounded by arches of quarry, has a mill that was used to squeeze the mezcal and an oven to bake the agave pineapples.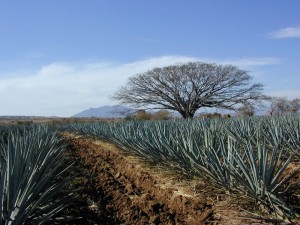 There are also guided tours to tequila factories that offer tours in the agave plantings, where they show the development process, from harvesting, growth, fermentation and distillation, to storage and the finished packed product. Tourists also have the opportunity to taste the product.
In 2006, this region was declared World's Heritage by UNESCO, as well as the area of 34 thousand 658 hectares at the foot of the Tequila Volcano. UNESCO has also included the "landscape of Agave".