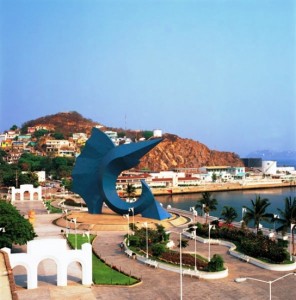 Manzanillo is one of the most beautiful beach destinations in Mexico. It is located in the state of Colima, in the region of the Pacific Coast. In a walk through the streets of the center of the town visitors can find many restaurants offering traditional dishes from the place, some markets where people can buy all kinds of crafts, as well as the breakwater, where it is possible to admire the "Monument to Sailfish", since Manzanillo is known as the sailfish capital of the world, because many national and international fishing tournaments take place here.
On its beautiful beaches people can practice different water sports such as surfing, kayaking, diving and
snorkeling among hundreds of multicolored fish, giant manta rays and other species, in the deep waters of the beach Boquita it is possible to find the remains of a sunken boat and beautiful coral formations. Las Hadas beach is ideal for beginners, because it lies in a protected cove that gives a gentle wave, and has little depth. Elephant Rock is a small beach that is named after a rock formation with the appearance of elephant, which has been eroded, in its depths can be found a deep submarine canyon, inhabited by hundreds of fish.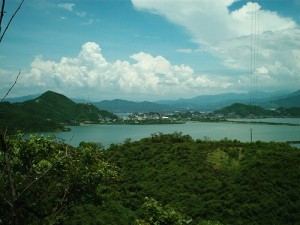 Manzanillo also has natural reserves and ecological camps that are ideal for ecotourism, cycling, camping, hiking, horse riding and extreme sports such as abseiling, climbing and zip-line. It is also possible to visit the prehistoric caves decorated with stalagmites and stalactites of various shapes and sizes. Near Manzanillo, there are two beautiful scenery where you can enjoy the wonderful flora and fauna, Peña Blanca is a natural refuge for thousands of waterfowl, it is necessary to get a boat to get there; and Tepalcates Bridge, located on Lake Cuyutlán is a perfect place to observe different types of birds such as ducks, swallows, among other species that hover over the calm waters of the lagoon.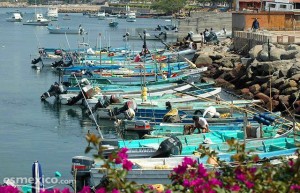 In Manzanillo tourists can find beautiful crafts made from natural materials that show the creativity of the artisans, such as figures made of dried coconut, palm typical hats called "colimotes", hammocks, earrings and necklaces, , and many other things that can be purchased at the markets which are close to beaches or in downtown.