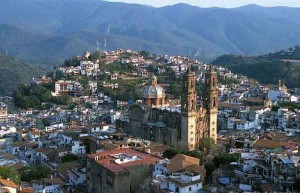 The city of Taxco is one of the most picturesque sites of colonial Mexico. Since the first time of visit, is amazing its unique appearance, as it is located at the foot of the hill Atachi, crossed by a series of canyons and surrounded by big mountains. The majestic beauty of Santa Prisca Cathedral, the pride of local people and one of the most important temples in America, contrasts with the simplicity of the village of red roofs and white walls.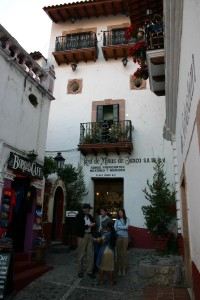 Taxco took its name from the Nahuatl term Tlachco, which means place of the ball game. Was established in 1528 in the village of Tetelcingo to a mining camp along with those of Cantarranas Tenango and in 1570 became the Real de Minas de Taxco. The exploitation of Silver made it one of the most important mining centers of New Spain. Of three camps of Tetelcingo the only one remaining today is Taxco. The city of Taxco grew and grew as a mining town as the site of unique architectural features. In the eighteenth century Don Jose de la Borda, a native of the Pyrenees gave rise to the mining industry. The appearance of Taxco today, is works of Don Jose de la Borda, who gave Taxco the scenic aspect. His greatest work was the construction of the temple of Santa Prisca.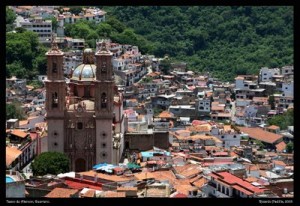 Another important person who helped for the development of  the center of Taxco silversmiths was William Spratling, who arrived in the colonial city in 1931 and with his ability to design combined with the ability of local people was developed one of the most admired handicrafts in the world.
The city of Taxco de Alarcón has preserved its traditional look, and they look out for their old colonial buildings and urban design with its distinctive twisting cobblestone streets and sidewalks. People can appreciate beautiful and picturesque corners, along with the numerous terraces that open to the
public landscape. In 1990 he was declared a historic monument.
Monumental Christ of Taxco is today one of the attractions that highlights the City of Taxco de Alarcón, thanks to the splendor of its architecture. The monumental statue of Christ located on the hill Atachi is one of the viewpoints that show the beauty of the city of Taxco, this is about three meters tall and was built in 2002.
The colonial city is located in the northern state of Guerrero, bordering the states of Mexico and Morelos. The area is shaped by a set of hills and mountains that form the Sierra de Taxco. The climate is temperate with warm summers and nights of December and January tend to be cool.