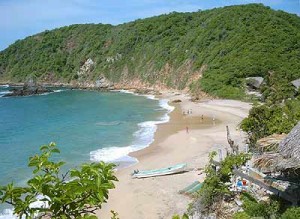 Mazunte is one of the most beautiful beaches on the coast of Oaxaca with its golden sand and crystal clear warm water with green and blue hues, its name comes after the fact of many blue crabs that used to live in the area. Mazunte is a small town that has managed to succeed, in balance to not destroy the natural resources.
Mazunte was at the beginning, a town that lived thanks to the commerce with turtles, but a new law in 1990 banning the hunting of turtles in the pacific coast, made the villagers lost their main source of income; so authorities, residents and institutions had to find new resources to achieve how to sustained their families and improve their quality of life, based on tourism, an important museum of the turtles, crafts and a firm which makes cosmetics, soaps and other natural products.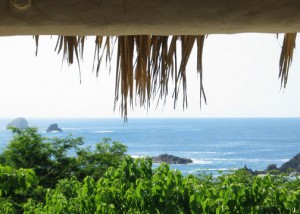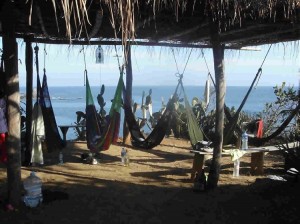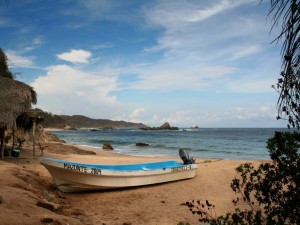 The central aquarium is one of the most important attractions; within four acres it shows live turtles, fresh-aquatic and terrestrial. Each fishbowl provides appropriate conditions to ensure their welfare, the species on display are arranged with flora and fauna according to their specific characteristics. It is a site where you can observe turtle's young adults and pups as well as endangered species.
Another attraction is the Mexican Centre of Turtles, which houses within its premises the Museum of the Turtle and a beautiful virgin beach where people can enjoy the tranquility of its water which is great for swimming and hiking in the beautiful scenery that makes up the beach and the rainforest.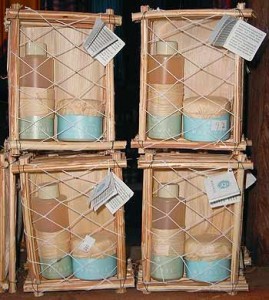 Mazunte also has a cosmetics factory, which are produced mostly from natural material in the region. People can visit the factory and purchase different kind of products offered. This project began when an expert in sustainable development visited the community of Mazunte, calling the attention of the founder of The Body Shop a British cosmetics company, who visited the place in 1993 to hear the plans for ecotourism, reforestation and agro-ecology and then intervened in the creation of the small company Mazunte Natural Cosmetics, integrating a group of 15 families of the town. The company produces among other things, moisturizing creams, shampoos and soaps, using materials such as avocado oil, soybean oil, sesame oil, refined corn oil, coconut oil, beeswax and Vitamin E.