The monarch butterfly, in addition to its great beauty, is characterized by its strength and longevity, because while other species of butterflies have a life cycle of 24 days, the monarch lives up to nine months that means 12 times more than others.
They avoid dying in Canada and the United States, where they could not withstand the strong winter. Every year, monarch butterflies arrive to the forests of the many reserves in Mexico, in late October, it is estimated that they travel between 3500 and 4500 kilometers, it takes about 25 days and they travel about 120 kilometers per day; they remain until March, when they make the incredible feat of flying back to the United States and Canada.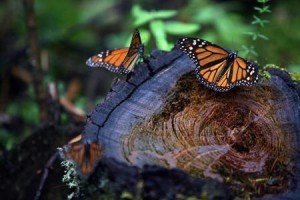 During their stay in the north, the Monarchs develop between three to five generations. The last of these, born between September and early October, is the generation that will travel to the south.
On October 1986 were recognized by presidential decree, 16,110 hectares as Special Reserve of the Monarch Butterfly. The protected area includes 5 sanctuaries, including "El Rosario", which receives 90 percent of the approximately 100 thousand tourists, national and international, who visit the region each winter to watch this spectacle.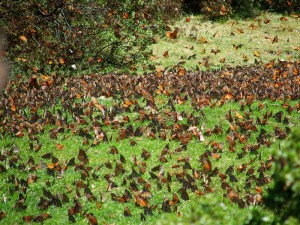 The Rosary is a model of socio-economic and environmental sustainability, contributing to forest conservation hibernation of the Monarch butterfly, which is crucial for the communities of the region as well as butterflies and other species of flora and fauna.
Upon arriving at the sanctuary we can see one of the great wonders of life, which is seeing the forest of green oranges become intense, trees turned into clusters of monarchs and orange petals raining from the sky, along with a soft whisper created by the Monarchs flutter.